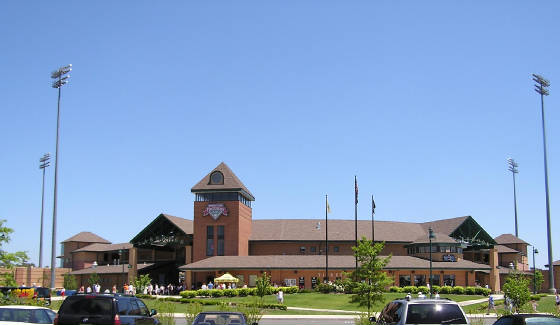 TEAM ::: LAKEWOOD BLUE CLAWS
LOCATION ::: LAKEWOOD, NEW JERSEY
MY FIRST GAME ::: APRIL 24, 2002
OPPONENT ::: SOUTH GEORGIA WAVES
LEVEL ::: SOUTH ATLANTIC LEAGUE, LOW A
RATINGS
BALLFIELD ::: A+
SCOREBOARD ::: B
FOOD ::: B
FACILITIES ::: A+
MASCOT ::: A+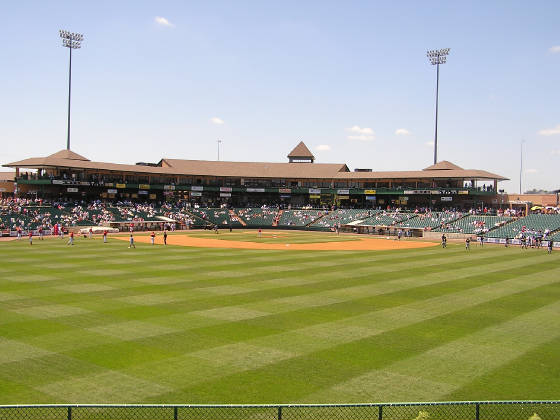 MY TAKE ON THE PARK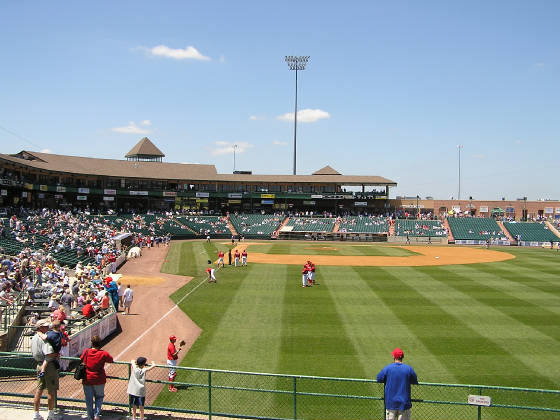 BACK IN 2001 THE LAKEWOOD BLUE CLAWS PLAYED THERE FIRST GAME AT FIRST ENERGY PARK. SINCE THEN NOT ONLY HAVE THE BLUE CLAWS LED THE SOUTH ATLANTIC LEAGUE IN ATTENDANCE BUT THEY HAVE ALSO BEEN IN THE TOP 25 IN ATTENDANCE IN ALL OF THE MINOR LEAGUES. QUITE AN ACCOMPLISHMENT FOR THE TEAM THAT RELOCATED FROM FAYETTVILLE, SC AND DREW IN A SEASON WHAT LAKEWOOD DRAWS IN LESS THAN A MONTH.
WHAT AWAITS THE 400,000+ FANS THAT ANNUALLY ATTEND BLUE CLAW GAMES IS A FIRST RATE FACILITY THAT IS ABOUT BEST DESIGN IN ALL OF THE MINOR LEAGEUS.
EACH YEAR THE BLUE CLAWS IMPROVE ON THIS PERFECT DESIGN THAT THEY HAVE TO WORK WITH. IMPROVEMENTS TO THE PARKING LOT, WHICH HAS GONE FROM A SINGLE ENTRANCE LARGE LOT TO A MULTI EXIT EVEN LARGER LOT MAKING THE PARKING ISSUE A NON ISSUE, WHICH MAKES ATTENDING A GAME THAT MUCH BETTER.
ONCE INSIDE PERFECTION CONTINUES, A SPACIOUS CONCOURSE RUNS AROUND THE ENTIRE FACILITY AND IS DESIGNED SO THE FANS NEVER LOSE SIGHT OF THE GAME.
TAKING A WALK TO THE OUTFIELD, STARTING FROM LEFT FIELD, THERE IS A CHILDRENS PLAYGROUND, A SMALL KIDS CONCESSION STAND, IN STRAIGHT AWAY CENTER IS A TIKI BAR AND PICNIC AREA WHERE YOU CAN WATCH A FEW INNINGS. IN MANY PLACES THIS WOULD BE WHERE YOU WOULD DRINK AND HECKLE THE CENTER FIELDER. NOT IN LAKEWOOD, THERE IS A VERY STRONG FAMILY ENVIRONMENT THAT I DOUBT THAT IDEA WAS EVER EVEN THOUGHT OF. CONITNUING TO THE RIGHT FIELD AREA THERE ARE MORE CONCESSION STANDS ALONG THE WALK.
IN FRONT OF THE WALKWAY AND BEHIND THE LEFT AND RIGHT FIELD WALLS IS A GRASSY KNOLL WHERE FANS CAN BE PART OF THE "SOD SQUAD" AND ENJOY GENERAL ADMISSION SEATING ON THERE OWN BLANKETS.
THE SEATING AREA IS ALMOST STANDARD WITH SEATS RUNNING FROM SHORT LEFT TO SHORT RIGHT, ALL DARK GREEN GIVING THIS MODERN GEM AN OLD TIME FEEL. ASIDE FROM THE STANDARD SEATS, LAKEWOOD OFFERS SOME OF THE BEST GENERAL ADMISSION SEATING OPTIONS IN ALL OF THE MINOR LEAGUES. ALONG THE OUTFIELD WALK ARE LIFEGUARD CHAIRS. KEEPING WITH THE SHORE THEME OFFERING FANS TO WATCH THE GAME AS IF THEY WERE LIFEGUARDS AT THE BEACH. THESE CHAIRS ARE VERY UNCOMFORTABLE BUT LOOK GREAT ALONG THE OUTFIELD.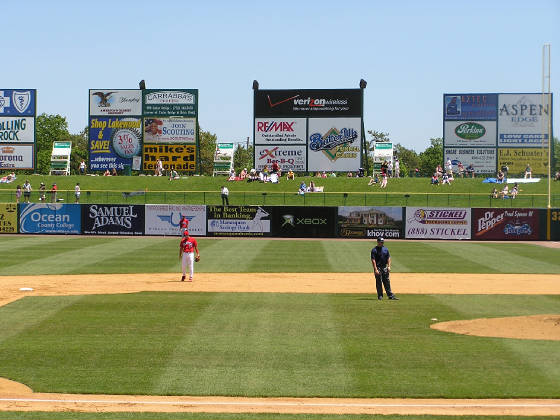 A TRIP TO LAKEWOOD IS A MUST! A STADIUM WITH A GREAT DESIGN IS ONE THING, BUT WHEN YOU HAVE A STAFF THAT IS 100% CUSTOMER SERVICE LIKE THE STAFF IN LAKEWOOD, THEN YOU HAVE A GREAT EXPERIENCE AS WELL.
IF THERE IS ONE COMPLAINT, AND OF COURSE THERE HAS TO BE SOMETHING, IT IS THAT LAKEWOOD IS MAYBE A LITTLE TOO CONCERNED WITH THE FUN AND GAMES AND NOT CONCERNED ENOUGH ABOUT THE GAME ON THE FIELD.
HOWEVER, I THINK THE BLUE CLAWS UNDERSTAND PEOPLE ARE OUT TO BE ENTERTAINED AND IN THAT RESPECT, EVERYONE FROM THE TICKET TAKER TO THE USHER TO THE VENDORS DO THAT BETTER THAN ANYONE.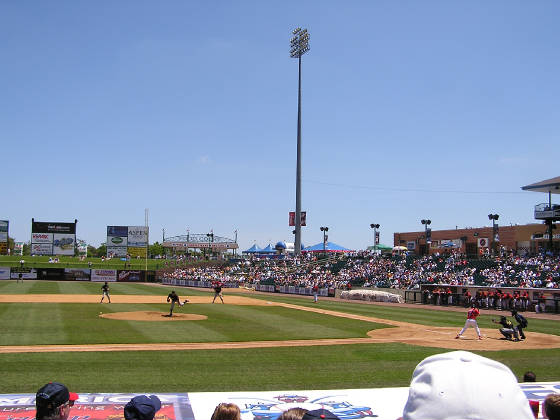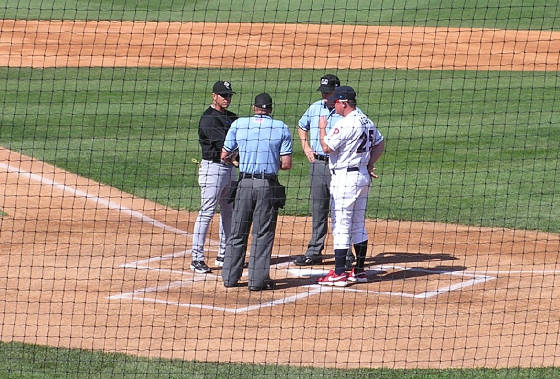 THE LINE UPS
SOUTH GEORGIA MGR ::: 44 SCOTT LITTLE

LAKEWOOD MANAGER ::: 30 JEFF MANTO
SOUTH GEORGIA WAVES
23 Travis Ezi cf
8 Derek Mann ss
12 Victor Diaz 2b
36 Scott Gillitzer 1b
29 Jose Garcia rf
35 Edwin Bellorin c
52 Thomari Story-Hardin dh
13 Omar De Los Santos 3b
54 Vance McCracken p / LP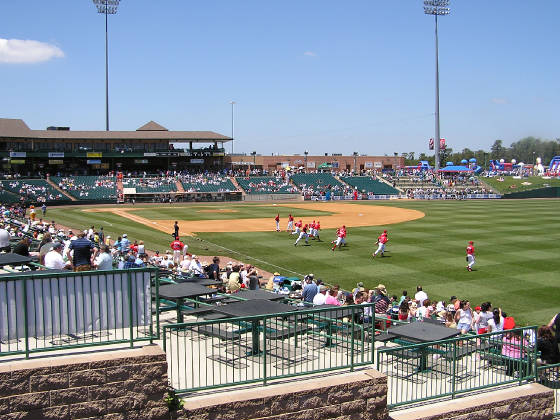 LAKEWOOD BLUE CLAWS
9 Rod Perry rf

2 Kris Bennett 2b

32 Danny Gonzalez ss

29 Ryan Howard dh

23 Andre Marshall cf

21 Ben Margalski c

11 Sean Walsh 3b

26 Gregg Foster lf

31 Antonio Cancio 1b

17 Taft Cable p / WP

27 Eude Brito p / S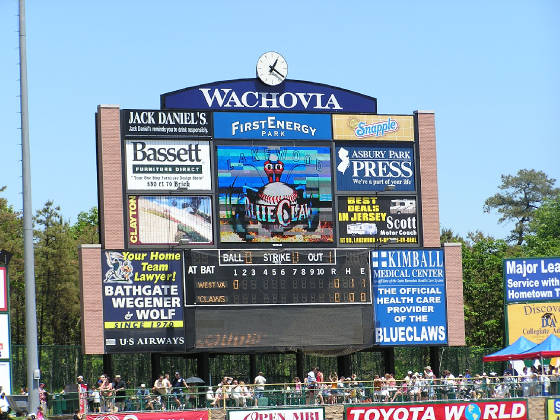 SO GA WAVES 000 000 011 2 7 1
BLUE CLAWS 000 120 00x 3 7 2

TIME ::: 2:37
ATTENDANCE ::: 6,636
WEATHER ::: 60 CLEAR COOL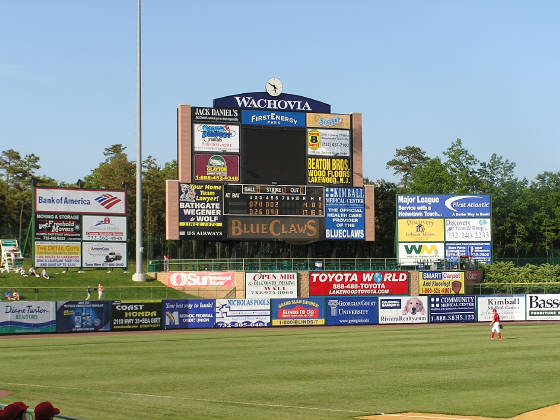 SEND ME AN E-MAIL

LINKS
The Official site of the Lakewood Blue Claws