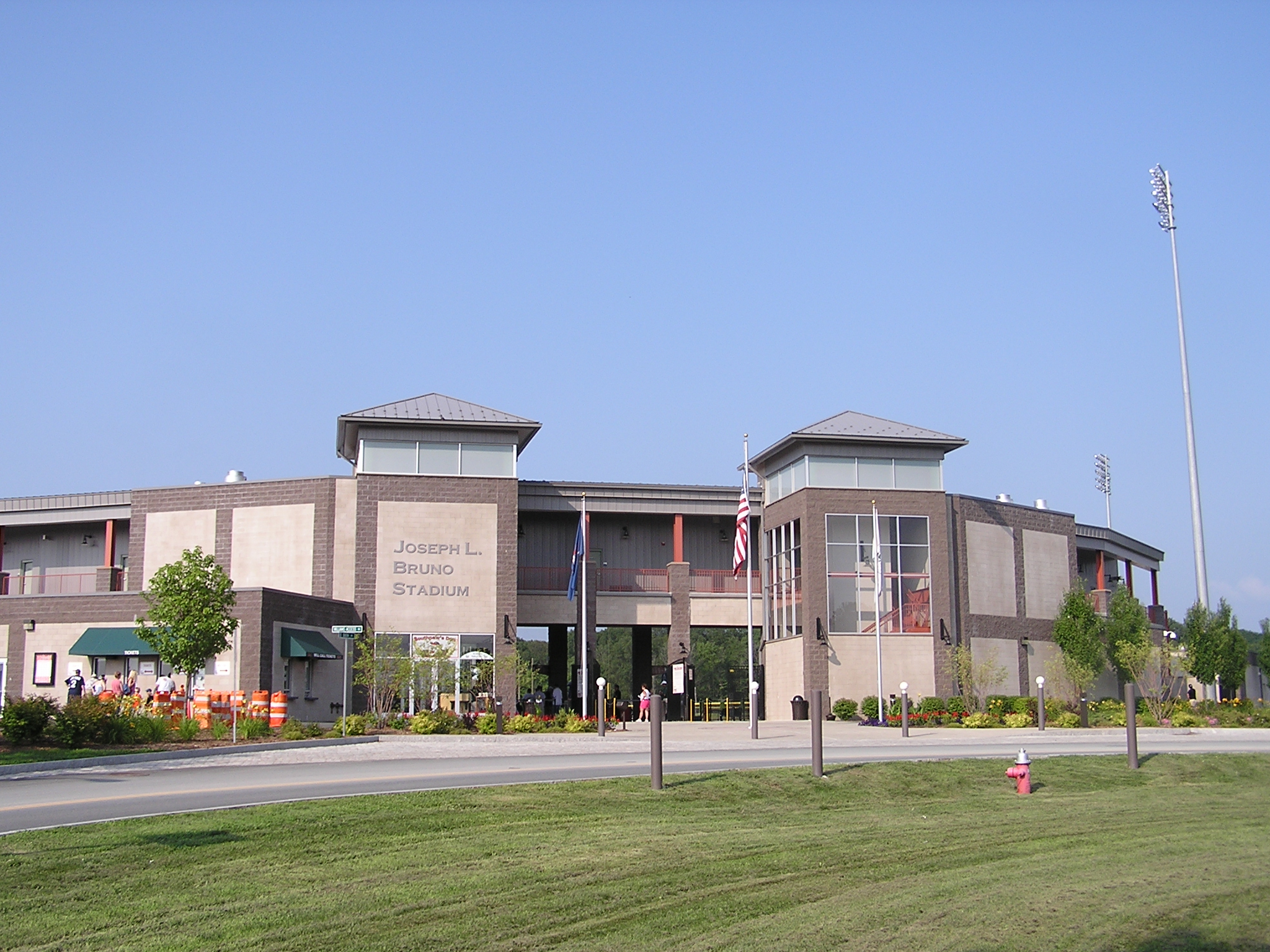 TEAM ::: TRI CITY VALLEY CATS
LOCATION ::: TROY, NEW YORK
MY FIRST GAME ::: AUGUST 17,2003
OPPONENT ::: MAHONING VALLEY SCRAPPERS
LEVEL ::: NEW YORK - PENN LEAGUE 'A'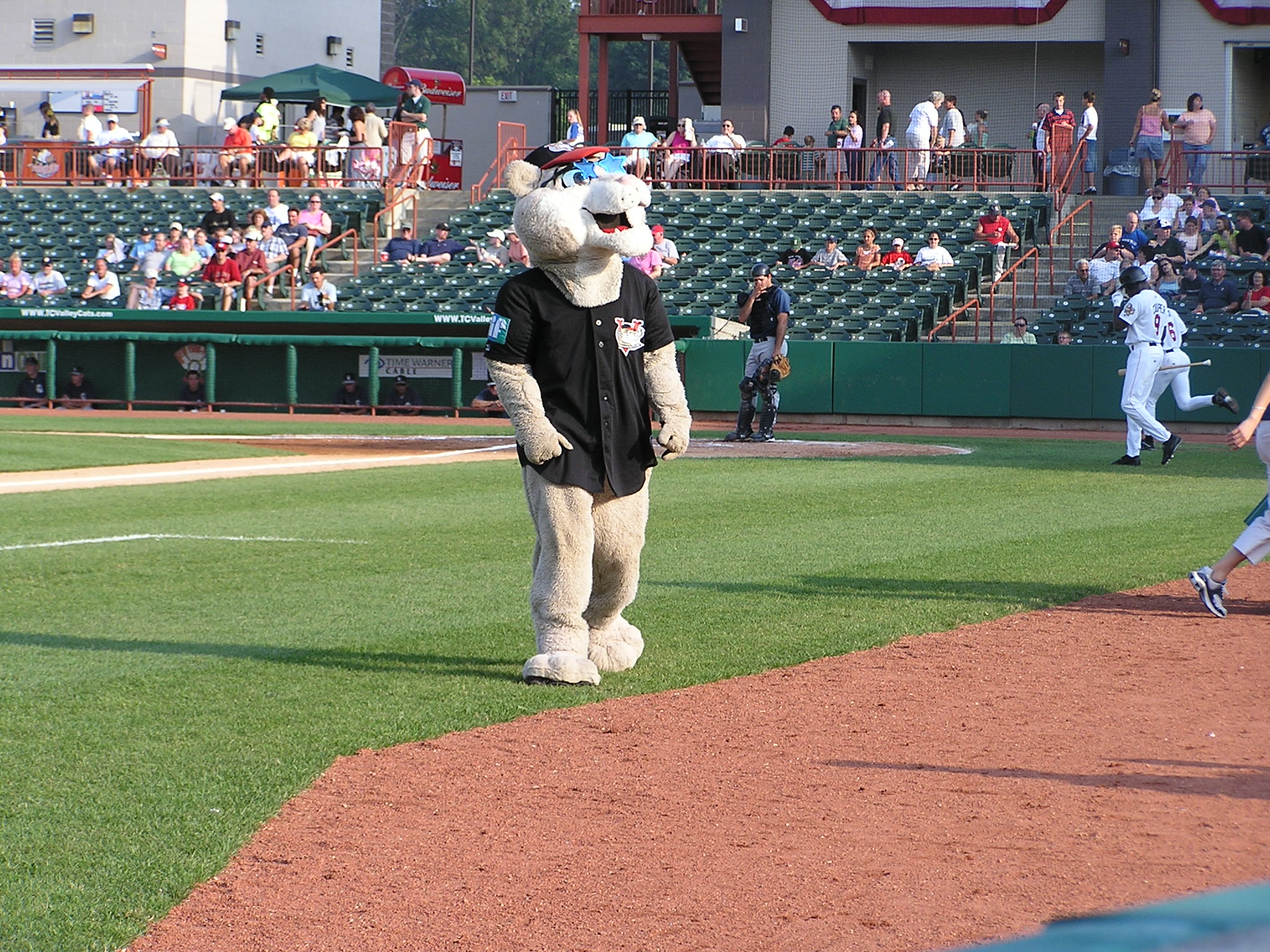 RATINGS
BALLFIELD ::: A
SCOREBOARD ::: B+
FOOD ::: B
FACILITIES ::: B
MASCOT ::: B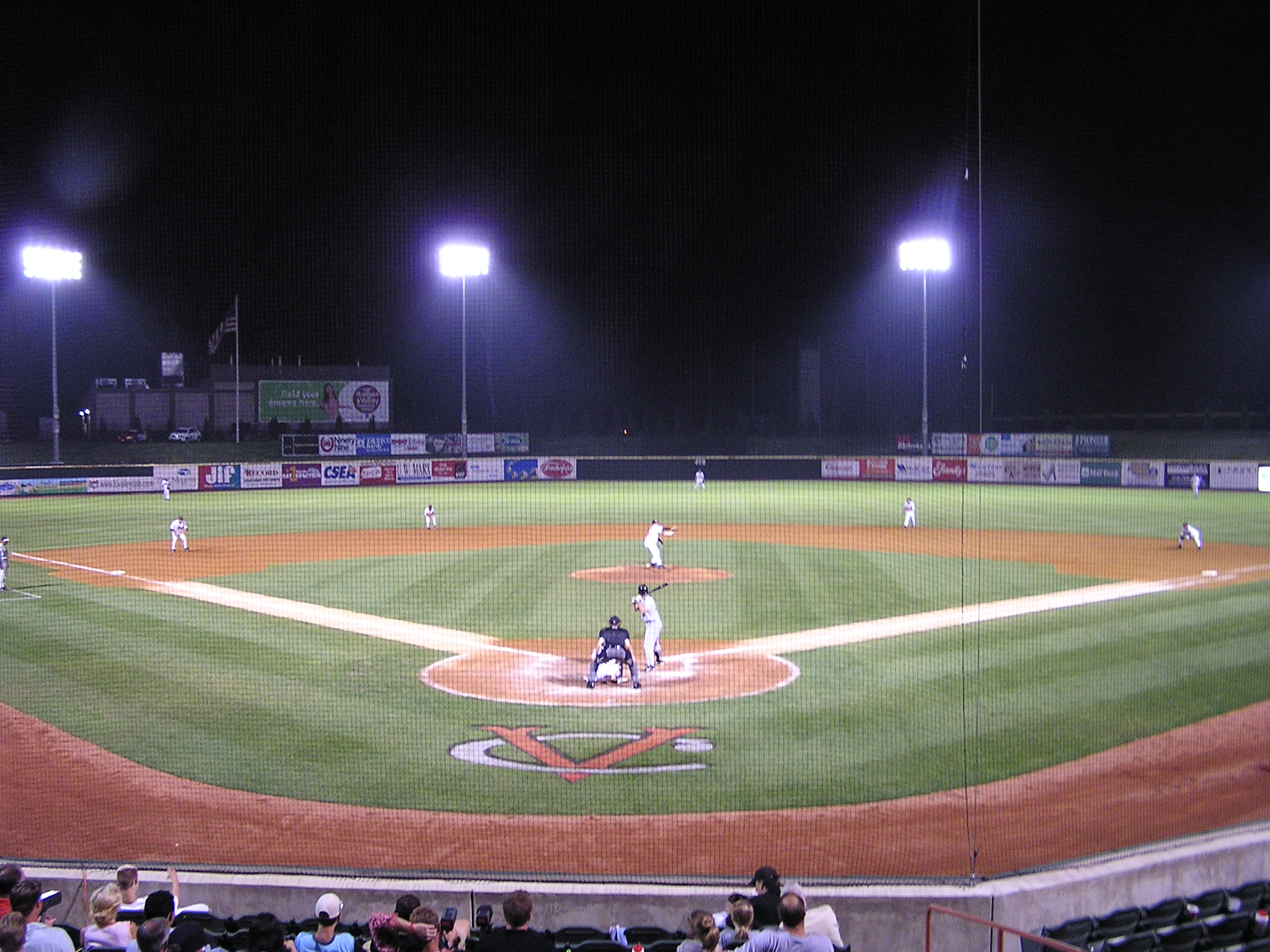 MY TAKE ON THE PARK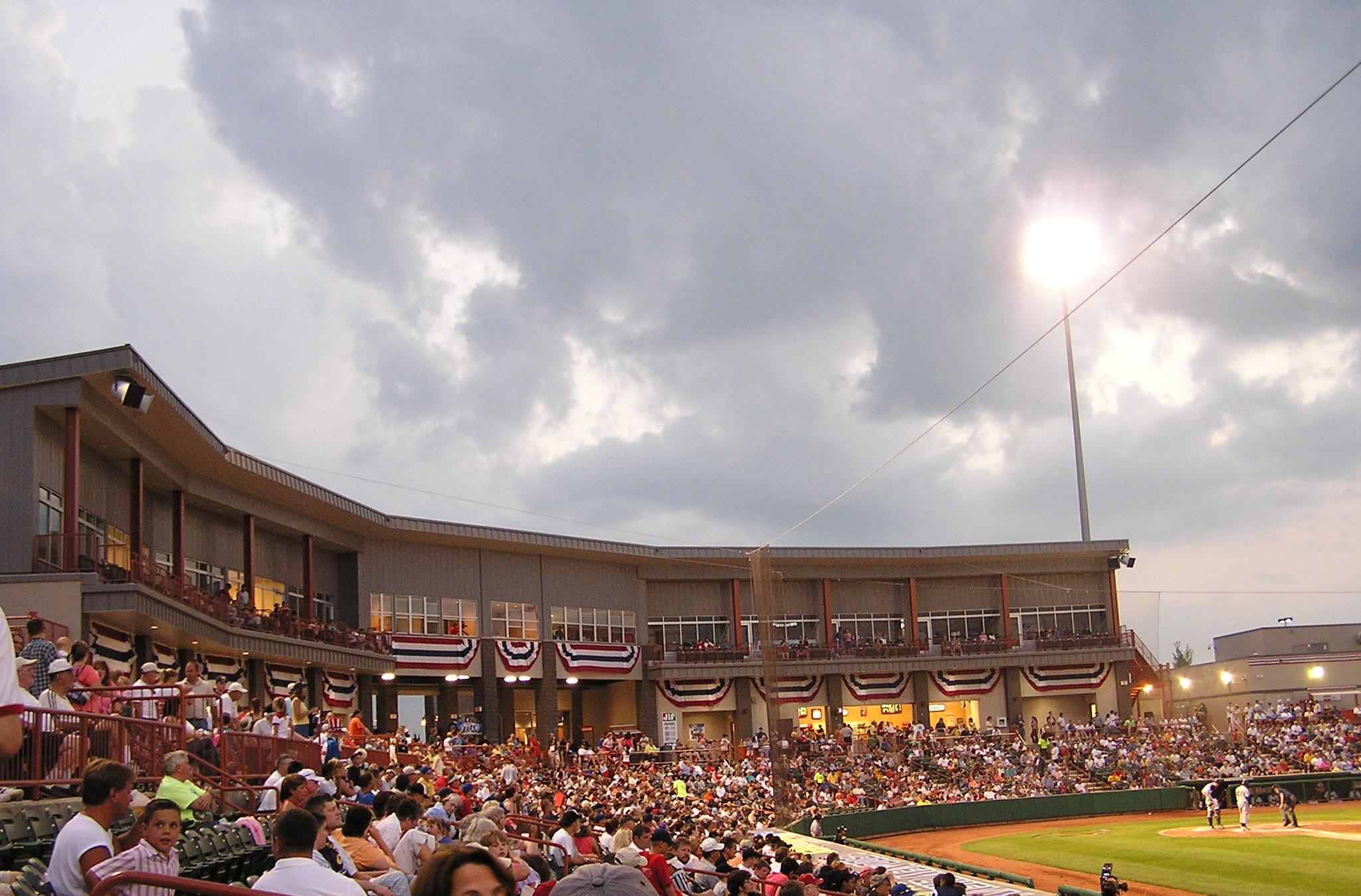 LOCATED ON THE CAMPUS OF HUDSON VALLEY COMMUNITY COLLEGE IS 'THE JOE'. A PARK THAT HAS REALLY FIGURED OUT WHAT IT IS DOING SINCE MY FIRST TRIP AND I HAVE TO SAY, HAS BECOME A REAL GEM IN THE NY - PENN LEAGUE.
BEING ON THE COLLEGE CAMPUS AND BEING A SUMMER LEAGUE, THERE IS AMPLE FREE PARKING AROUND THE STADIUM, HOWEVER, THERE ARE TWO EXITS BUT THE LOT IS KIND OF NARROW TO GET OUT SO YOU MAY SIT A LITTLE BIT AT THE END OF THE GAME.
UPON ENTERING THE PARK THROUGH THE VERY WIDE GATES THE FIELD IS UPON YOU. UPSTATE NEW YORK DOESN'T GET VERY GOOD WEATHER BUT THE FIELD AT 'THE JOE' IS VERY WELL MAINTAINED.

THE SEATING BOWL RUNS FROM FOUL POLE TO FOUL POLE WITH COMFORTABLE GREEN SEATS, BUT THEY COULDN'T FIND A SPONSOR FOR THAT CUP HOLDER I GUESS. ALSO, THE SEATS DO NOT FACE THE PITCHERS MOUND WHICH REALLY DID NOT MAKE SENSE TO ME.

BEHIND THE SEATS IS A VERY SPACIOUS WALKWAY WHICH LEAVES ENOUGH ROOM FOR THE CONCESSIONS. DOWN THE LEFT FIELD LINE THERE IS THE STANDARD KIDS AREA BUT ALSO A LITTLE BEER GARDEN. DOWN THE RIGHT FIELD LINE THERE ARE ALL KINDS OF CONCESSIONS, THE TRI-CITY AREA OF UPSTATE NY KNOWS ALL OF THE CONCESSIONS PEOPLE WILL WANT SO THEY OFFER THEM. THEY EVEN SELL SPIEDIES AND SALTED POTATOS, TWO UPSTATE NY TREATS.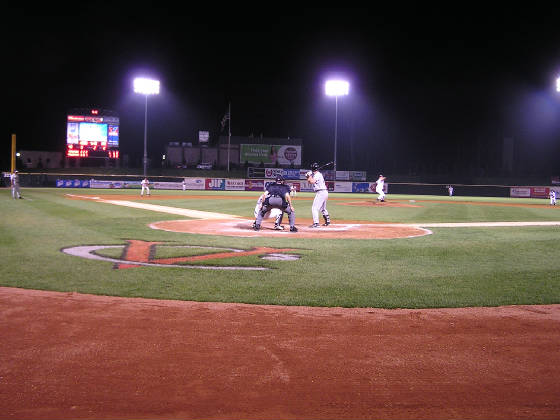 THE AREAS I WAS VERY CRITICAL OF ON MY FIRST VISIT IN '03 HAVE REALLY BEEN ADDRESSED. THE SOUND SYSTEM WORKS PERFECTLY AND THE SCOREBOARD GIVES SCORING DESICIONS QUICKLY, WHY DOESN'T EVERY PARK??
A FEW POINTS ABOUT THE PLACE ::
THE SUN SETS OVER THE 3RD BASE STANDS SO SITTING ON THE FIRST BASE SIDE DURING EARLY EVENING HOURS WILL GIVE YOU A GREAT VIEW OF THE SUN.
FOOD IS PRETTY REASONABLY PRICED, FOR THE MINOR LEAGUES.
MY BIGGEST COMPLAINT ARE THE MISSING CUP HOLDERS, THEY WOULD PUT THIS PLACE TO THE TOP OF MY LIST OF PARKS.
THE TRI-CITIES OF NEW YORK ARE; ALBANY, SCHNECTADY, AND TROY.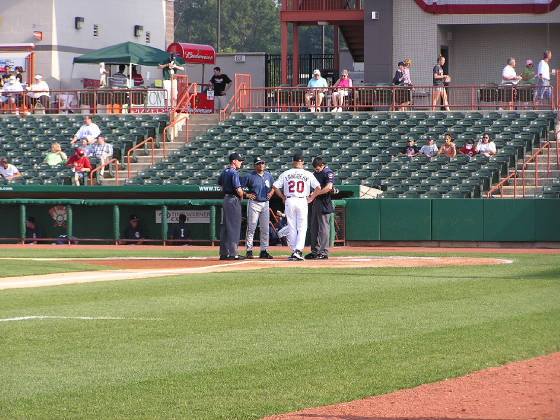 THE LINE UPS
SCRAPPERS MGR ::: 38 TED KUBIAK

VALLEY CATS MGR ::: 11 IVAN DEJESUS
MAHONING VALLEY SCRAPPERS
35 Brad Snyder cf

20 Mike Conroy lf

10 Kevin Kouzmanoff 3b

36 Ryan Goleski dh

34 Ran Muklhern 1b

44 Josh Noviskey c

40 Jonathan Van Every rf

13 Ceasar Suarez 2b

4 Anthony Lunetta ss

32 T.J. Burton p

16 Matt Davis LP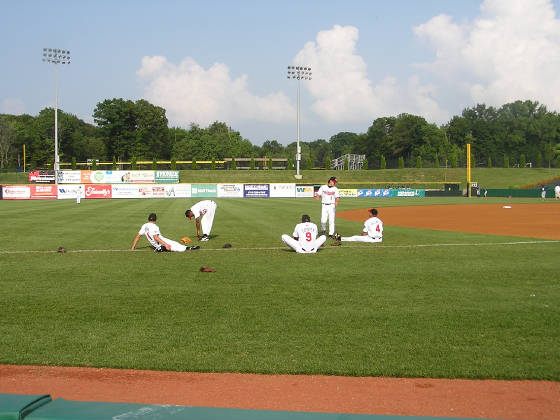 TRI-CITY VALLEYCATS
40 Josh Anderson cf

6 Chad Prosser 2b

9 Adam Seuss lf

8 Brock Koman 3b

25 Beau Hearod rf

5 Scott Robinson 1b

26 Randy McGarvey dh

17 Jeff Mackor c

14 Wade Robinson ss

15 Joey DeLeon p

35 Jonathan Beltre WP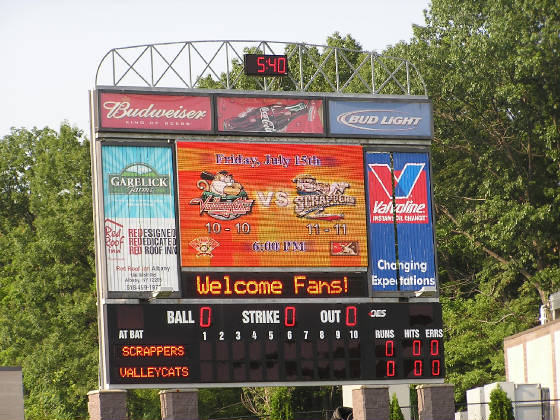 SCRAPPERS 040 000 001 5 9 1 VALLEYCATS 022 000 30x 7 11 0

TIME ::: 2:18
ATTENDANCE ::: 1,626
WEATHER ::: 79 OVER CAST / DRIZZLE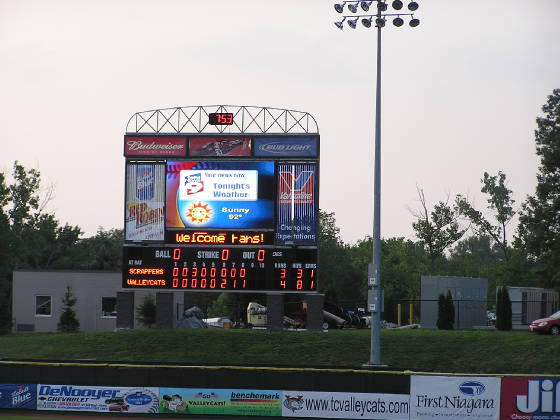 SEND ME AN E-MAIL

LINKS
The Official site of the Tri-City Valley Cats
Troy NY weather from WEATHER.com